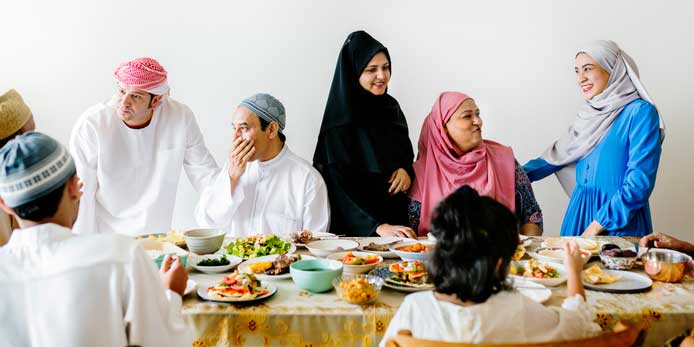 29 May

Healthy Eating During Eid

Eid Mubarak! The holy month of Ramadan has passed and it is time to celebrate with family and friends! Over the course of any holiday everyone is tempted to over indulge in delicious food and drink. However during Eid-Al-Fitr we want to be extra careful and take care not to reverse all the benefits from fasting and eating lighter meals during Ramadan.

During Eid, hospitals report emergency cases dealing with acute gastritis, diarrhea, and vomiting which are related to overeating. These digestive disorders are triggered during Eid festivities because our bodies need to be gently eased into eating and drinking water at regular hours, and sleeping at a regular bed time to reestablish the metabolic processes in the body.

Instead of consuming heavy meals during Eid, we recommend having smaller meals over the course of the day. Keep portion sizes small and balance your plate with protein, carbohydrates, and fats so as not to overload the digestive system.

The Health at Hand team suggest following a few simple rules during the Eid celebrations:
If you will be eating out at a restaurant, be careful not to overload your system in one go. Start with small portions and eat slowly.
Avoid foods with excessive sugar, fried foods or foods that are excessively spicy.
Remember to drink water regularly over the course of the day, and avoid drinking sweetened juices or sodas.
Ensure you choose fresh salads or fruits with every meal to keep you feeling energized.
Listen to your body and recognize when you are full, so you don't over eat.
If you have been fasting for the past 30 days, your body will also be used to a different sleeping pattern. During the Eid holiday try to restore your body to its normal sleep schedule by sleeping at least 6-8 hours at night and waking up early. Try to fit in some form of exercise for at least 30 minutes. This will help you re-establish a good routine, keep you healthy over Eid and post-Ramadan.
Health at Hand - How to adjust your body after Ramadan
If you are experiencing any symptoms, ask your Health at Hand doctor for advice through our app that can be easily downloaded from the App Store. Click here for more information.